How We Started
Berhyah started in May 2018 with some prototype and samples of boxes with registered trade name and logo in ministry of manufacturing in Baghdad and then we developed our tastes and recipes based on international experience with Iraqi professional people and international experts that we chose, and then we expanded our operation in May 2019 to the small factory that located in Abu Al Khaseeb Area (South of Basra) which is specialized in dates and filled with palms 100 years ago we used small tools trying to reach the perfection in shape and taste. And then aftergetting good demand from local market we expanded our operation to 6 people in factory with different sectors and one logistics manager that handle all logistics and operation for daily operations inside factory. By End of 2019 we reach to 12 point of sales in different Iraqi provinces through our partners in success and we chose the luxuries shops and café`s that offer Berhyah products on their menu`s and food lists. By start of 2020 we changed our plan to reach all over the world and then we signed agreement with Sweden company to be our representative in Sweden and one in Malaysia and one in Jordan. After COIVD-19 during July we started our first point of sale in Basra and we opened our new sector which Berhyah Café, Berhyah Café that offer the Arabic coffee and Italian coffee with Iraqi Dates and Berhyah products, than can offer breakfast and quick snacks that already contain dates, and getting all benefits of dates products.

Luxury Experience
Berhyah aims to introduce new and sophisticated garment of Iraqi dates, and willing to spread love, peace and sense around the world by selling high quality and creative designed products, considering that Iraq have experienced difficulties regarding to political and financial issues which have prevented the best Iraqi products from reaching world markets. Berhyah Contains many different and exquisite flavors that are introduced for the first time in markets. Our flavors are chosen by Iraqi experts and made by skilled chefs, where natural ingredients are mixed with date in order to present special and unique flavor. In accordance with the magnificent image presented by Berhyah products, it is also produced by outstanding and experienced people for the intention of supporting Iraqi economy and workers with low income, due to their massive contribution in Berhyah manufacturing process. As a result, part of the profits are provided for their families in order to help them create suitable living conditions. Note that all our products are tested by MOH and has all the legal papers that fir the 882 food standard in iraq.
Berhyah Theme
Our theme has been chosen carefully to represent that history of Iraq and all revolutions of 7000 years back, so we chose theme of Assyrian Temples and part of Babylon Temples with logo that represent that power of our history, the font of our logo is registered and trade mark of best calligraphy professional (Wesam Shawkat) that dealing with luxury brands all over the world and design many watches for Bulgari™ , Rolex™ and Hoblut™. Berhyah Logo chose to represent the power of Iraqi history and touch of south of Iraq with colors that meet the luxury and soft touch of high quality brands all over the worlds.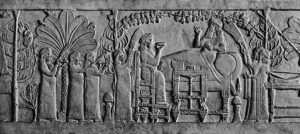 Berhyah Colors
We noticed that there is a need in the market to get a special Iraqi gifts and there is no touch and perfect taste that can people get, also we are offering a special boxes that designed by international Iraqi Artists who left Iraq and miss the opportunity to get back and already need to represent that Iraqi culture in different ways, in this way we provided a chance to them to show their talents and designs and transfer their love to all over the world through Berhyah boxes.